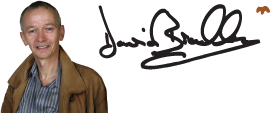 Over the past 30 years or so, I occasionally received invitations to attend memorabilia events, along with personal appearances - as in "An Evening With David (Dai) Bradley. Later disappointed fans missing an opportunity to meet me have written saying, "If only I'd known; when will you be doing another one".

Thus what we have on the right is an events calendar providing dates and times, and venues.

Whether to do with forthcoming work (on film, TV or stage) or public engagements, this is the place to find out. There's no set routine for the latter; they happen ad hoc - rather like "waiting for a bus then three coming at once." But rest assured, you will know when I do.

Finally, many fans have asked why they haven't seen me in a professional capacity for quite a while. In short, notwithstanding the roller coaster ride that is part of an actor's lot, during recent years family responsibilities took precedence over one's career.

In truth, it's been a difficult period though a labour of love. Yet as a "little sparrow" once sang, "Je ne regrette rien. For me now, with filial devotion having run its natural course, I hope to rise phoenix-like from thespian embers.

© KES - BILLY CASPER 2010.